My ultimate list of vegetarian restaurants in Tokyo!
Actually, this is a list of vegetarian-friendly restaurants that also serve meat, which are a lot harder to find. As a vegetarian travelling with meat-eaters, I need restaurants that cater for both of us, which is difficult in Japan. I've found that 100% vegetarian or vegan restaurants are quite easy to find – there are already lots of lists of them, but it's harder to find regular restaurants that also cater to vegetarians.
In the UK it's standard for most restaurants to have at least one vegetarian option (even if it's something really boring, like vegetarian lasagne). In Japan, however, that's not the case. Most Japanese restaurants have no vegetarian dishes at all. I can't tell you how many times that we've walked the streets, tired and hungry, looking for somewhere to eat. So that's why I wanted to share this list with you.
While I love spontaneity, you'll have a much less stressful time if you do some research and go to Japan armed with a list of places where you can eat, if only as a back-up. I've had far better meals and enjoyed Japanese food so much more when I've researched places to eat. I've also been able to enjoy authentic Japanese food, rather than falling back on pizza and pasta as a last resort because I can't find anything else.
The Problem: Dashi
Most dishes that look like they're vegetarian actually contain dashi, which is fish stock. It's a main ingredient of Japanese cooking, and will almost definitely be in any meal containing soup – that includes ramen and bowls of noodles with soup.
While it's possible to make vegetarian dashi with konbu (seaweed) and/or mushrooms, when you're eating out, the default is almost always dashi made with katsuoboshi, which are fish flakes, and it's pretty hard to avoid in Japan.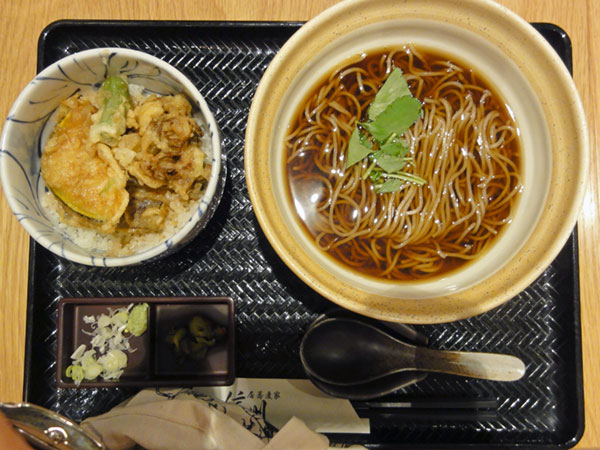 Help keep the list up to date
I really hope this list helps you. It's correct to the best of my knowledge, but please do your own research about each place and if you come across anywhere that's not open any more or that's changed their menu, please do let me know.
What's not included
Non-Japanese food – When you go to Japan, you want to eat Japanese food, right? It's really frustrating when I ask for recommendations and receive links to pasta and curry places – they might be great but I can have them any time! I want to try authentic Japanese food in Japan! So this is a list of restaurants with Japanese food. On the whole, I haven't included other types of restaurants. If you get stuck, they usually have margarita pizza, tomato pasta or vegetable curry. They're a good back-up if you can't find anywhere else, but I haven't included them here.
100% vegetarian/vegan restaurants – This list is for vegetarians and meat-eaters travelling together. I travel with meat-eaters and wanted places we could all enjoy. There are just one or two included that I couldn't resist, and I've mentioned which these are. If you want fully vegetarian or vegan restaurants, Happy Cow is an excellent resource.
Teishoku
Teishoku Yayoi
Teishoku is a Japanese set meal served on lots of little plates, usually with a bowl of rice and miso soup. These are similar to the meals that people cook at home. It's rare to find vegetarian options, but Teishoku Yayoi has soy meat dishes on the menu! Currently there's a stir fried soy meat and vegetables set meal, a ginger soy meat set, plus a few side dishes. There's also a natto breakfast set. Be aware that miso soup is almost always made with fish stock, unless you're at a specifically vegetarian restaurant. It's a chain, with branches all around Japan.

---
Udon/Tempura
Udon are thick, white noodles – often served in a soup made of dashi, and accompanied with tempura. Tempura sets often include vegetables – if you have to, you can order a set and avoid the fish, or choose pieces individually.
Another option is zaru udon, which is cold udon served on a bamboo tray. Leave the dipping sauce (it contains dashi); have soy sauce instead and any other table sauces, pickles or sesame seeds. You can also get zaru soba, which is the same thing but with buckwheat soba noodles instead – it's actually really refreshing.
I had zaru udon at the Soramachi food court at the SkyTree – you can see it at 4:28 in this video – at the time I wasn't very impressed but if you stock up on condiments and tempura it makes it into more of a meal. I prefer zaru soba (which you can see in this video from Shibamata) because the noodles have more flavour.

Hanamaru Udon
An udon/tempura chain with lots of branches. Look for the orange sign. Avoid any dishes with soup. The oroshi shoyu udon is vegetarian, with grated radish and soy sauce. There are some vegetable tempura items, plus sides like inari nigiri (tofu sushi), bowls of plain rice and boiled eggs.
– Menu
Tendon Tenya Tempura
Another chain with lots of branches. There's a vegetable tempura bowl on the menu.
Japanese Curry
Unless it says it's vegetarian or vegan, Japanese curry will almost always contain meat stock or even chunks of shredded meat. Dishes that look vegetarian often aren't, because of the sauce. Vegans – watch out as it may contain honey. However, it's much easier now that Coco Curry offers vegetarian curry sauce at every branch (and there are LOTS of them all around Japan!).
Coco Curry
Fast food curry chain. Good for a large, cheap meal – I love going there for a late breakfast! The best thing about Coco Curry is you can customise your curry by choosing the spice level and adding toppings. The rice is delicious and perfectly cooked too.
The regular curry contains meat (even the dishes that look vegetarian). However there's now also a vegetarian curry sauce! To start with it was only available at some branches, but now it's available everywhere.
Just order the vegetarian curry sauce, and you can make virtually any dish you want by adding toppings – there are several vegetable toppings as well as cheese, egg, toppings like garlic bits. At one point there was a soy meat hamburger, but it seems to have disappeared off the menu. You can take a look through the complete menu book here.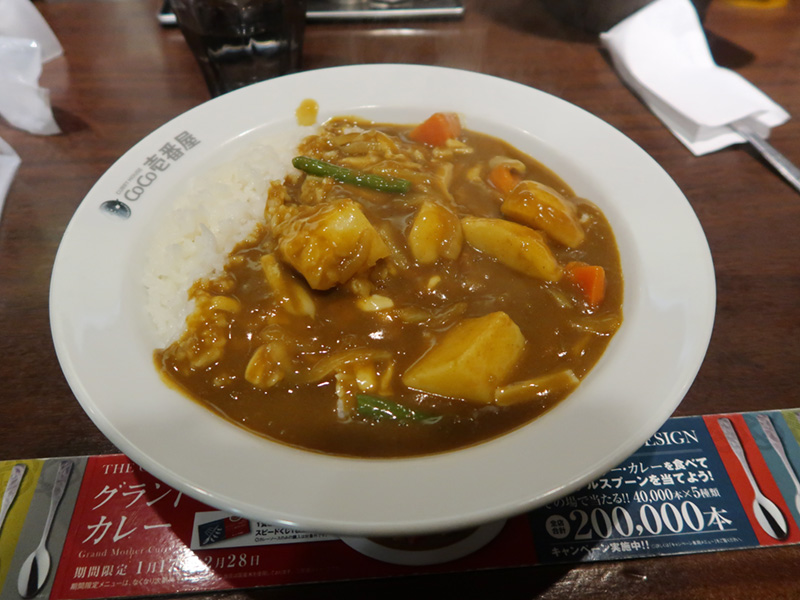 This video was filmed before the vegetarian curry sauce was available at all branches (an updated video will be on the way on my YouTube channel!):
Okonomiyaki
Okonomiyaki is sometimes called a Japanese pancake or pizza – but it's not really that much like either, apart from being round and flat! It's made of shredded cabbage with batter and toppings, with delicious dark sauce and mayonnaise. (Much better than it sounds!). Okonomiyaki is one of my favourite Japanese dishes – I can never understand why it's not more well-known over here, because the flavours definitely appeal to a western palate.
If there isn't a vegetarian option on the menu, most restaurants can make one if you ask nicely. I'd recommend anything with cheese! In the worst case, at restaurants where you make your own at the table you can choose which ingredients to pick out and which to include. Katsuoboshi (fish flakes) are often sprinkled on top, so watch out for them!
NOTE: There's a chance the batter may contain dashi (fish stock). To me, the batter doesn't taste of fish or dashi at all (and I would definitely notice if it did!) – so it's up to you whether you're ok with that. If you'd rather not, look for a restaurant that offers guaranteed vegetarian batter, like Sakuratei in Harajuku or OKO in Osaka.
Okonomiyaki at MyLord
Okonomiyaki restaurant on the restaurant floor of MyLord dept store (love that name!) in Shinjuku, right by the station. Last time I went there was cheese and mochi monjayaki on menu, and they made an okonomiyaki version when I asked for it. (Monjayaki is a runnier version of okonomiyaki that you eat from the grill with a kind of spatula).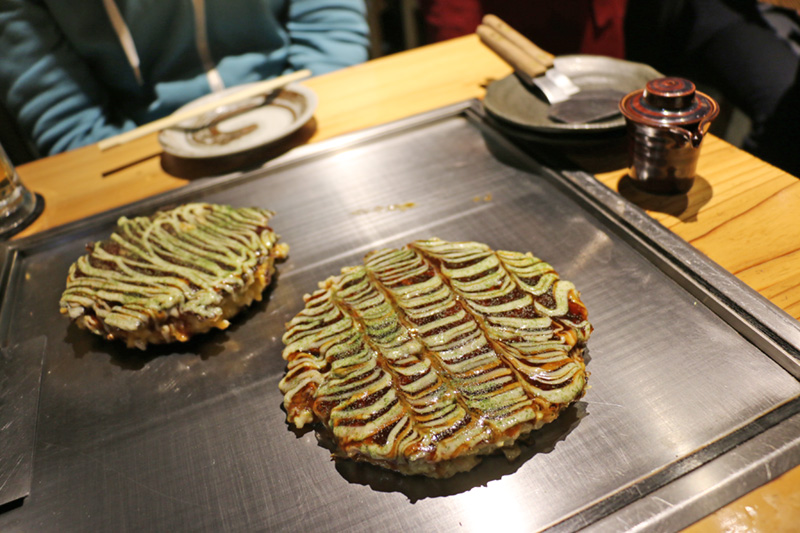 Omurice
Most omurice contains chicken or meat stock on the rice, and vegetarian omurice is very rare in Japan. However thanks to one of my followers on Twitter who went and checked it out, we've found somewhere that has it: Eat More Greens in Azabujuban near Roppongi. The tomato sauce is vegetarian, and the demi-glace sauce contains pork.
@cakeswithfaces Hi 🙂
It is in fact vegetarian if you choose the tomato sauce, the demi-glace has pork. It is delicious and the staff is very friendly as well. I really recommend trying it out 🙂 pic.twitter.com/LPVLgibS9w

— Martinz (@Martinz13t) May 7, 2019
---
Ramen
Unless you're at a vegetarian restaurant, ramen almost always contains fish or meat stock in the soup, even if the toppings look vegetarian. That's why these places are so special!
Kyushu Jangara
Branches in Harajuku, Ginza, Akihabara and Asakusa – but it doesn't feel like a chain. Small, cosy ramen place with a vegetarian option that includes fake chashu pork. To me this tasted like an authentic, traditional Japanese ramen. Really friendly and cosy atmosphere, with quirky decor. I went to the Ginza branch, which is in a backstreet near all the big designer shops – completely incongruous with a quirky little ramen place!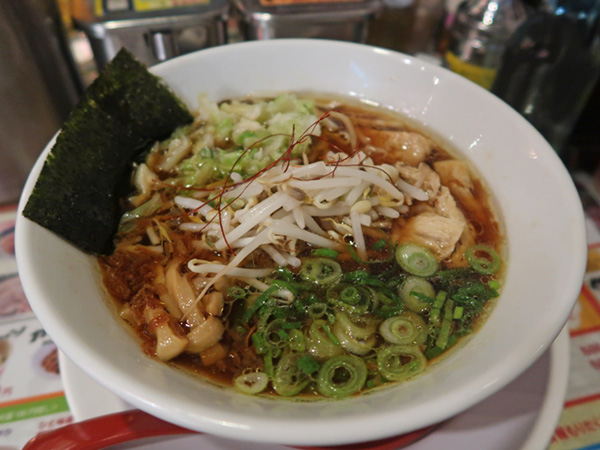 Shinbu Sakiya, Shibuya
Vegan and meat ramen, including shio (salt), shoyu (soy sauce) and miso ramen – including vegan miso ramen, which is pretty rare. Recommended by TabiEats on YouTube as one of their favourite ramen places in Tokyo.
Tokyo Ramen Tower
What a great name for a restaurant! It's near Hamamutsucho / Daimon Station (Shimbashi area). Their vegan ramen is sesame-flavoured. The rest of the menu is meat ramen, including tsukemen. You place your order on a vending machine, which is mostly in Japanese, but the "vegan ramen" button's in English, and it's green, so it's easy to order the right one! The restaurant feels like an authentic, basic ramen place where salary-men might go, with the kitchen in the middle and seats on a bar all round. There's also a sneaky view of Tokyo Tower if you look down the alleyway to the left of the building. There'll be a video coming up about this one!

Chabuzen
Vegan restaurant in Shimokitazawa. Also serves curry.
– Website
Ippudo – Shinjuku Lumine EST
Ippudo is a popular Japanese ramen chain. Only one branch has vegan options – it's in Lumine EST department store in Shinjuku. And there's a choice! This is unheard of in Japan at a restaurant that also serves meat. In fact there are more vegan options than meat options. And they also have plant-based gyoza (rare)! It opened in summer 2022.
I had the tonkotsu style soy milk based ramen (spicy version), and it tasted really good! You could see the flavoured oil on the surface, just like an authentic meat-based ramen. I also enjoyed how there were so many condiments to add spice and extra flavours, including vinegar, which was an unusual but tasty option, and a sesame grinder. You could also pick up ramekins of garlic, with a garlic press, from the counter.
There are currently four vegan options. The menu's in Japanese so I'd recommend using the camera on the Google Translate app to translate it. There's a picture of the menu below. It's easy to see which are plant-based – it's the four options below the green "Plant-based" title, which is in English, and the two on the right are meat ramen. It always helps to have a picture menu!
Remember, the other branches of Ippudo don't have vegan options, only this one in Shinjuku, in Lumine EST.
You can find it in the food court on the 8th floor. There'll be a video coming up about this one on my YouTube channel.


Noodle Stand, Harajuku
There's vegan coconut miso ramen (the rest of the menu is regular meat/fish ramen).
Samurai Noodle, Shibuya
I haven't been to this one yet; it's a small ramen shop in Shibuya with vegetarian/vegan options.
Ramen Museum, Yokohama
Not really a museum in the traditional sense, but a collection of ramen restaurants. They serve half portions as well as full bowls, so you can try ramen from different regions of Japan. However the half portions are still pretty big! Several of them serve vegetarian ramen (clearly indicated), and they have English menus. You order from a vending machine. Lots of fun and great ramen – just make sure you're hungry so you can take advantage of trying different types! There's an Okinawan bar in the middle – one of the few places where you can get Orion, an Okinawan beer.
This is outside Tokyo in Yokohama but worth the trip if you're a ramen fan! Combine it with the Cup Noodles Museum for a noodle-themed day!
– Website
T's Tantan
My number 1 favourite ramen in the world! Completely vegan restaurant with a selection of types of ramen, plus some other dishes and sides. The menu varies slightly by location. Very well known and recommended by lots of people. My fav is the Golden Sesame Ramen – every time I want everything on the menu. They do sets with a ramen of your choice plus gyoza or kara age (fried chicken in soy and ginger sauce). Allergens are clearly labelled.
Ueno Station – In Ecute shopping centre, inside the ticket barriers. More dishes on the menu than Tokyo Station.
Tokyo Station – Located on Keio Street, inside the ticket barriers.
Narita Airport – Terminal 2, 4th floor
Jiyugaoka – Not as ramen-focussed as the other branches.
– Menu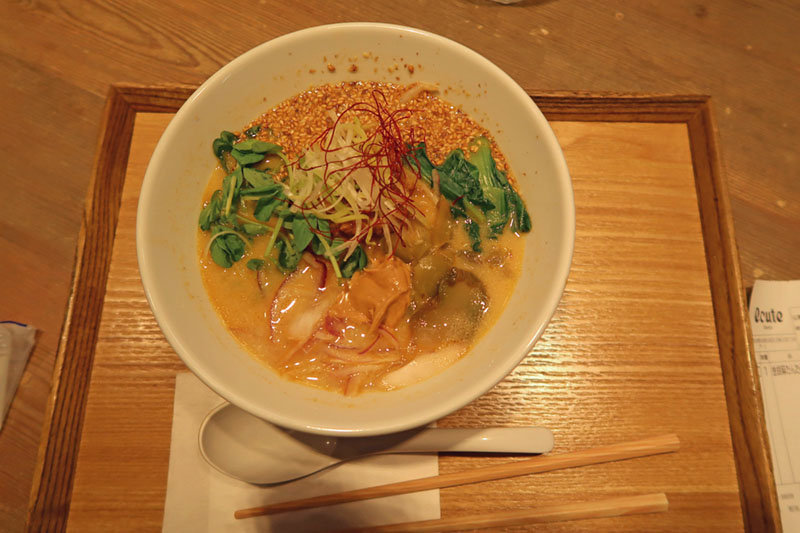 Soranoiro
There are 3 locations, each with a different menu. Only two of them have veggie ramen (called "bejisoba" = veggie soba):
Tokyo Station (in Ramen Street, on the B1 floor – follow signs to Ramen Street or First Avenue )
Hirakawacho (near Hanzomon and Kojimachi subway stations). Like traditional ramen shops, it closes when the soup runs out! Check the opening hours on the website.
I went to the one in Tokyo Station, which can be tricky to find as Tokyo Station's HUGE. Look for a blue sign with a round logo and the mural of Mount Fuji. The ramen is very non-traditional – the soup's made of pureed carrots! There are several variations and two of them are vegan.
– Website
– Blog post with pics of the menu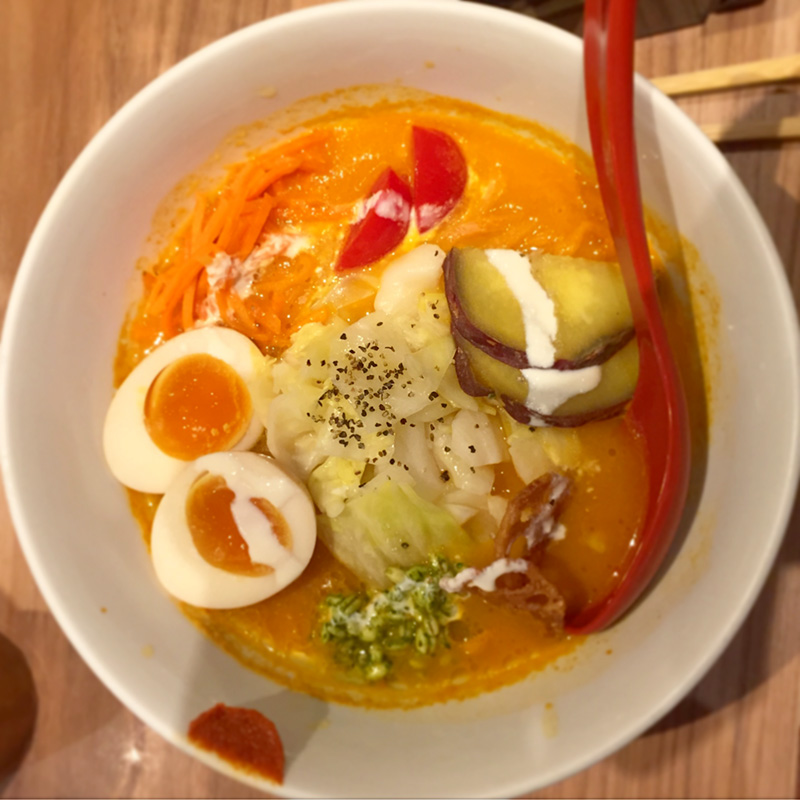 Kagetsu
Ramen chain Kagetsu have made their temporary vegan ramen a permanent option on the menu. There are 10 branches around Tokyo. Details…
Jikasei Mensho Shibuya Parco
Serves meat ramen with wagyu beef, and vegan tantanmen ramen. You order on a tablet (you can change the language to English). Located inside Shibuya Parco department store. Details here…
---
More Vegetarian Ramen
– Several more in this blog post on Ramen Beast.
Sushi
It may surprise you, but sushi restaurants often have one or two veggie options. It does vary; at one place I had a meal entirely of kappamaki, which wasn't the most exciting, but at least there was something! Most sushi places are worth looking at – these are just a few that I've tried:
Uobei Sushi
Sister branch of Genki Sushi (which has now closed down), with an identical menu. It's basically the same, but with slightly more seating so you might have a shorter wait. It's also in Shibuya.
Himawari Sushi
A typical cheap conveyor belt sushi bar in Shinjuku. There's an English menu and several veggie options. The name means "sunflower".
– Tripadvisor
– Blog post on The Vegetablian (with pic of the menu)
Katsumidori
Cheap conveyor belt sushi with veggie options including avocado (unusual in Japan – it's not traditionally a sushi ingredient, it was introduced in the west as an alternative to fatty tuna). There are branches in Shibuya (Seibu department store, 8th floor) and Ikebukuro (Seibu department store, 8th floor). It's really popular so there'll probably be a queue; the Ikebukuro branch is less busy.
– Website
PS: If you like sushi…
Take a look at my How to Make Sushi recipe ocmic book! You can learn to make delicious sushi at home (fish and veggie), along with edamame and gyoza. It's so much fresher than shop-bought sushi and you can make it just how you want it. The comic comes as a gift set with a rolling mat and two pairs of chopsticks.
Take a look…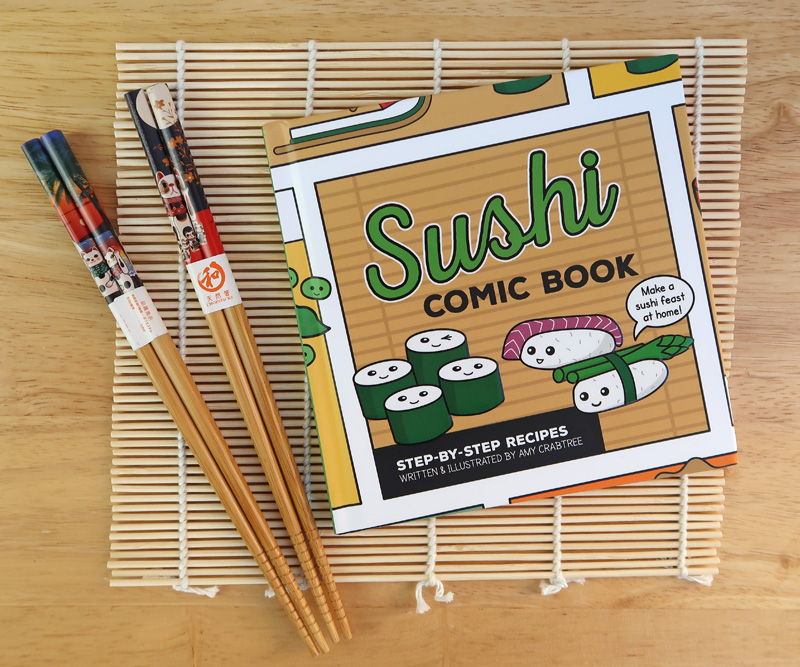 Fast Food
Mos Burger
A Japanese fast food chain with lots of branches. Mos Burger now has a 100% vegan burger. It even has a pale green burger bun, dyed with spinach puree! I'm looking forward to trying it on my next trip. All the details are on SoraNews24.
UPDATE: Mos Burger now offers a plant-based burger in a green bun, called the Green Burger. You can be confident that it's completely vegan.
Mos Burger also has an amazing range of soy burgers. The small beige icon on the menu says "soy patty" and indicates which are veggie burgers.
I love the teriyaki burger – often teriyaki sauce is for meat so vegetarians don't always get the chance to have it. It's also a novelty to have a choice, and a veggie burger that's not just a generic "burger". They serve meals in baskets and have my favourite: melon soda, as well as good, thick milkshakes. You can see it at 3:13 in this video from Akihabara.
Warning: On the allergy information it suggests that the soy patties may contain chicken. The allergy info on the Mos website is inconsistent and confusing – for some of the soy burgers it says they're only made on the same production line as chicken (regular soy burger and cheeseburger), and for others it says they contain chicken, pork and beef – so it could possibly be the toppings that contain meat products. Now I don't know why a soy patty would be made with chicken, and to me it doesn't taste or look like it contains chicken. I assume it's probably cooked in the same oil as meat products (which is probably the case in most restaurants) so that's possibly what they're referring to. That's just my assumption – I'll leave that info with you to make your own choice. I've also heard that the mixed vegetable kinpira (with the rice buns) is made using dashi, but I haven't tried that one.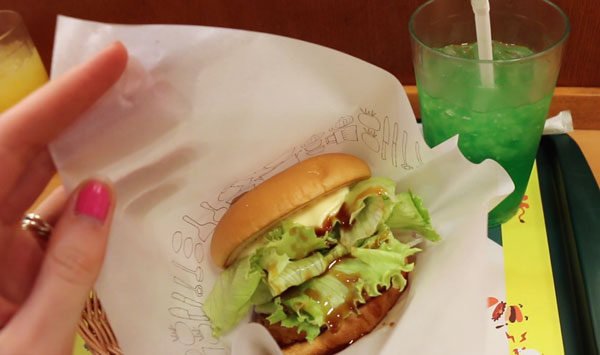 Freshness Burger
Another Japanese fast food chain, which emphasises fresh food. There's a veggie burger on the menu. I memorised the name and took a screenshot of what I wanted, which turned out to be completely unnecessary as the server spoke perfect English!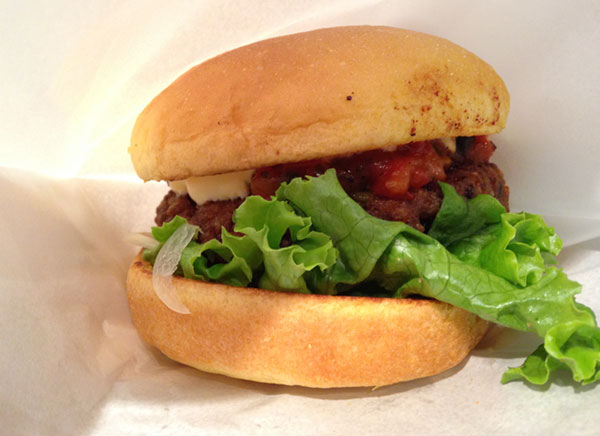 Ain Soph Ripple
Pricier than the other places I've mentioned. There are several Ain Soph restaurants – they're all 100% vegan and each has a different menu. The one in Shinjuku is fast food, with burritos and burgers, etc. Sharla in Japan went there a lot in her videos.
Shabu Shabu
Shabu shabu involves a hot soup and cooking your own ingredients at your table. It usually involves meat and a meat or fish stock-based soup.
On-Yasai
If you're visiting with a meat-eater, you can try shabu shabu at this chain of restaurants, which has multiple branches – just search "shabu shabu onyasai" on Google Maps to find them.
I went to the Shinbashi-Ginza branch, which is upstairs on the 4th floor. It's quite tricky to find – you need to look up and spot the small sign on the building next to the fourth floor, which is all in Japanese, with a picture of a piece of meat over a hotpot (shown in the video below).
The ordering process was quite confusing at first. Basically, you have to order a set meal each with a set of meat, then after that you can order whatever you want from the touchscreen. So the meat eater will have to eat two meat sets, which isn't a problem as they're not that big. It comes with a box of vegetables. Then you can order whatever vegetables or other items you want. The all-you-can-eat option will probably work out best value. It's not a cheap meal, but it's a fun experience because you cook your own food at your table in a hotpot!
There's a choice of broth for the hotpot. Most of them contain fish or meat stock, so I went for the konbu dashi (seaweed stock), which is plant-based. It doesn't have the most flavour, but it allows you to try the shabu shabu experience. Oh, and did I mention there are robot waiters?!
As well as various vegetables, there's tofu, and I particularly enjoyed the mochi that's tied in a tofu pouch.
Izakaya
Torikizoku
Yakitori place / bar where everything is 298 yen ,including the drinks (it's gone up slightly since my video!). Really fun place, and a great place to spend the evening with friends. You order small plates of food to share. It's mostly meat on sticks, but there are several veggie options, including potato salad (ask for it without the katsuoboshi fish flakes), "endless" cabbage salad, tomato, edamame and chips. The mochi cheese looks vegetarian but my friend thought it tasted like it's cooked in meat stock. There's a picture menu (or a touchscreen with English language option) so it's easy to order. There are lots of branches – look for the yellow sign. Search on Google maps for "Torikizoku" to find them. I went to one in Shinjuku.
Gyoza
Senjo Handmade Gyoza
A rare find! Gyoza usually contain mince. Very small gyoza place with only about 6 seats on 3 tables. It's in Ikebukuro, on the west side of the station (look for the yellow sign). There's a huge variety of handmade gyoza, with lots of unusual fillings.
The owner is very friendly and understands what vegetarian/vegan means. She asked if it was my first time there, and prepared a plate of 10 gyoza of different varieties for me. Different from gyoza I've had before, delicious and cooked well.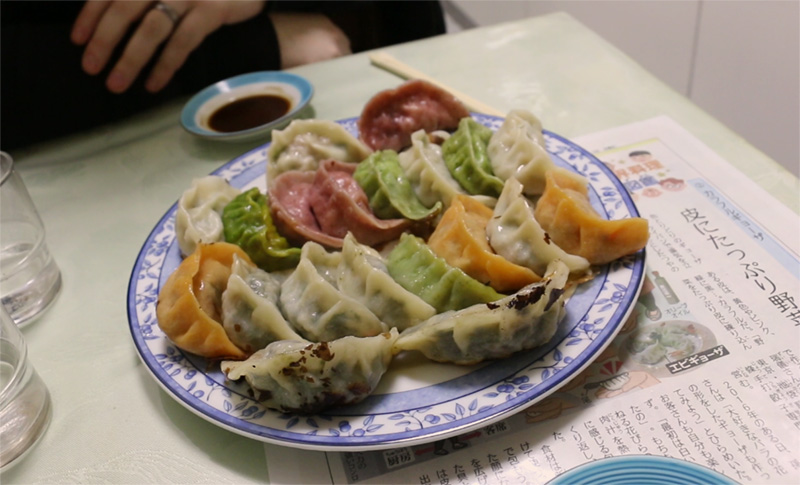 Convenience Stores
If it comes to the worst and you can't find anywhere to eat, grab a snack from the convenience store. They're everywhere, they're cheap and the food is good quality. Some even have a few seats for eating in, and they usually have a microwave for heating dishes up for you.
Some examples of what you can find:
Onigiri (rice balls) – now have English on the labels as well as Japanese, so there's no more "onigiri roulette" if you don't read Japanese. Vegetarian fillings include konbu/seaweed and pickled plum. There's a chance they may contain small amounts of dashi, but to me they don't taste of fish.
Edamame (soy beans).
Pizzaman – Steamed bun in the hot food section on the counter, containing cheese and tomato sauce. There are also sweet red bean paste buns.
Bakery items
Salads
Sushi eg inari (tofu) nigiri pockets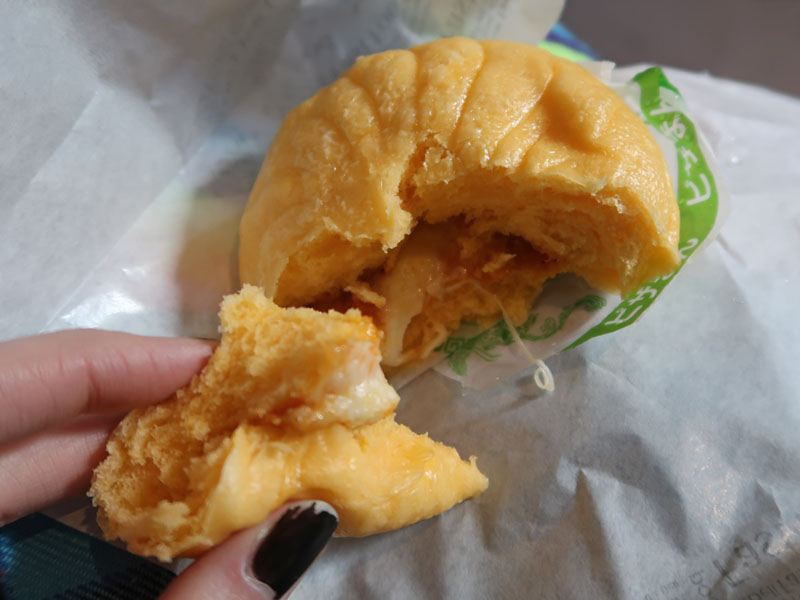 Vegan Convenience Store: Weller (Ebisu)
There's a vegan convenience store near Shibuya (nearest station: Ebisu). Everything's vegan and organic, and they even have vegan baby food and lattes made with rice milk.
Vegan Convenience Store: Vegan Store (Asakusa)
Another vegan convenience store in Asakusa, with a small restaurant above it. They have hot food on the counter, like karaage (fried chicken) and hot dogs, just like a regular konbini!
Ekiben
An ekiben is an eki-bento (eki = station, bento = lunchbox); a special type of lunchbox you can only get at shinkansen stations. They're fancier and pricier than regular bentos, and are a special treat for long distance train journeys.
There's one ekiben that's vegetarian. You can get it at Kyoto Station, and according to this website, also in Tokyo Station at a shop called Ekibenya, Ekibenya Festival and Ekibenya at Shinagawa Station.
Be warned that Tokoy Station's huge and maze-like, so leave yourself plenty of time to find it! Ekiben shops are usually in the shinkansen section of the station, and sometimes even on the platform.
Labels on ekiben aren't usually in English, so make a note of what the box looks like!
Other Styles of Food
Katsukura
It's very unusual for katsu restaurants to have a vegetarian option, because the menu's focussed on pork cutlets, fried in crispy panko breadcrumbs. So this is a rare find! At Katsukura you can get yuba (tofu skin) croquettes and yuba with vegetables croquettes. It looks like the set also includes pork cutlets so you might need to share; I haven't been to this one yet to see how flexible they are with the menu. It's a chain so there are several locations in Tokyo and around Japan.
Yoshinoya
Cheap Japanese fast food chain, with branches all over Japan. There's one veggie option: a bowl of steamed vegetables on rice. If you add side orders of cheese, kimchi or egg and free pickles on the table, it's actually a decent meal – and cheap. You can see it (and the menu) at the start of this video.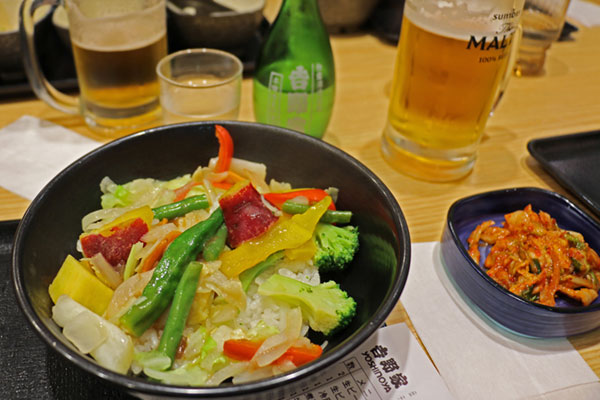 Ikea
Ikea has several vegan options on the menu in their restaurant:
Vegan katsu curry (not available at Shibuya or Harajuku).
Veegie cheese dogs (only at Ikea Harajuku).
Plant-based kebab wrap (only at Ika Harajuku).
Dairy-free soft serve ice cream (all stores except Shibuya).
Vegan instant cup ramen to take away.
Harmonica Quina
Taco rice is an Okinawan dish of taco fillings served on rice. This place has a vegetarian option (rare) with avocado and beans. It's in Kichijojo in Harmonica Yokocho, a collection of alleyways with lots of restaurants and bars to explore.
– Website (in Japanese) with map and picture menu
Quick lunch at Quina – great taco rice that passes the Okinawan Husband test and most importantly for me has a veggie option! Really recommend it if you're in the area. pic.twitter.com/hIRn2KFrUF

— Being Tokyo – Chiara (@beingtokyo) March 14, 2018
Monk's Foods
Restaurant in Kichijoji with Japanese-style meals of rice, miso and sides. There are vegetable, fish and chicken set meals for around 1000 yen.
– Blog post
– Entry on Happy Cow with map
Ichinotani
Serves chanko nabe, which is what sumo wrestlers eat! It's a hotpot with soup (in this case konbu-based) and vegetables. Near Suehirocho Station (Akihabara area).
– Blog post
– Tabelog entry with map
Kick Back Cafe
Slightly outside the central Tokyo area in Sengawa (near Chofu). In the evenings it's a gig venue. There's a meat and vegetarian menu. I've not been but have heard the veggie tonkotsu ramen is recommended. Check the opening times as it's not open every day.
Chabara
Shojin ryori (completely vegetarian) counter in Akihabara. Set meals with rice, miso soup and lots of small dishes. Shojin ryori is buddhist monks cuisine, usually found at temples.
Beeat Yaesu
Opened in 2021, Beeat Yaesu is a new outdoor food court with food trucks. It's just outside the Yaesu central exit of Tokyo Station. There are eight food trucks with sustainable food, and several vegan options. (Although if you're at Tokyo Station, my favourite vegan ramen T's TanTan's right there!).
General tips & advice
Videos about Japan
If you're planning a trip to Japan, subscribe to Cakes with Faces on YouTube for new videos every Thursday: travel vlogs and tips for planning your trip.