The new rar-men t-shirts and hoodies are now available to pre-order, featuring a cute tiger in a bowl of Japanese ramen noodles.
Pre-order and be the first to have the new design!
Despatched late March 2021 (estimated).
Worldwide shipping.
Only available at Cakes with Faces.
UPDATE: The Rar-men t-shirts and hoodies are now available on general release:
Rar-men Design
Puns are fun! Rar-men is the sequel to the Catsu Curry t-shirts and hoodies: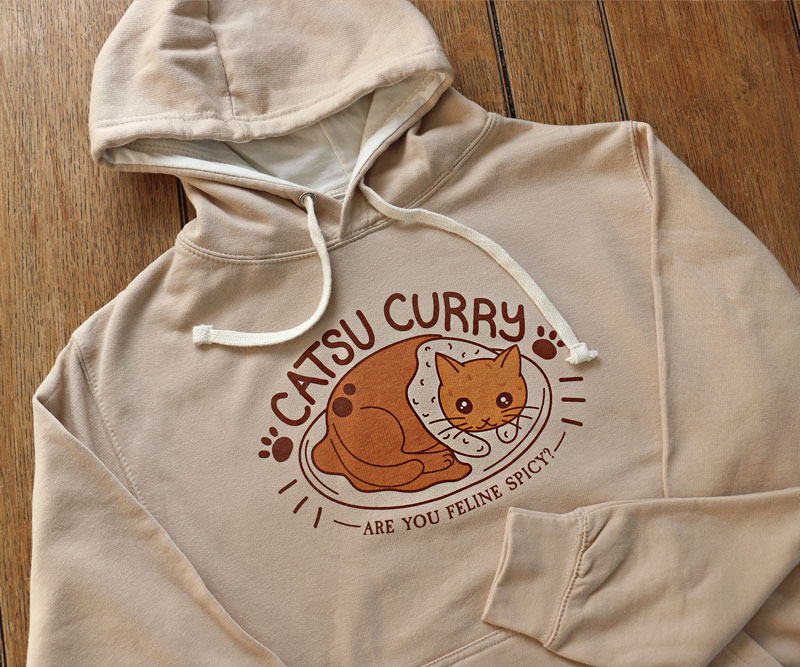 When I first thought of the idea, I imagined a dinosaur going "rar!" in the bowl of ramen:

But tigers also go "rar!", and they're super-cute. I've been using more watercolour and traditional art mediums during the lockdowns just for fun, as a way to get away from staring at a screen at the weekends! I'd drawn this tiger nigiri (ni-grrr-i):

Once I'd drawn the design, I tried out different variations for colourways for the screen-print. This was a really tricky stage. I kept the design on the backburner for a long time, going back to it occasionally with fresh eyes to decide which colours would be best. Annoyingly, most designs look good on black (and people always seem to like black t-shirts!) but I don't want all my t-shirts to be too similar.
I tried several variations on the bowl (there were lots of other versions beyond those shown here – with minute variations that most people probably wouldn't notice!), and the noodles got a redesign to make them look more… noodle-y.

And here's the final design! A tricky part of this one was making the tiger look cute but not too cartoon-y. I didn't want it to look too much like a kids' t-shirt, so I gave the tiger lots of attitude. He's kawaii but he still has little pointy teeth (and probably sharp claws hidden in there too!). It's ramen with bite! Rar!

Rar-men T-Shirt
My first baseball t-shirt, in white with black sleeves. I love this style!
It's available in unisex sizes Small to 2XL; pick the size you'd wear in mens t-shirts. The sizing's ever so slightly different to the other t-shirts, so check the chest sizes in the shop.

Rar-men Baseball Top (Pre-order only)
The baseball tops are a thin, long-sleeved top with contrasting black sleeves. They're the same thickness as a t-shirt, but with full-length long sleeves – just right for spring.
The sizing's unisex, so pick the size you'd wear in mens t-shirts. Measurements are in the shop – they're available in sizes S – 2XL.
This style will only be available during the pre-order; they won't be added to the regular range in the shop after the pre-order finishes.
UPDATE: The pre-order has now closed.

Rar-men Hoodie
The hoodies are light grey with a contrasting red hood lining and toggles. They're the same type as the other hoodies so I know they'll be extra cosy and good quality. They have a kangaroo pocket pouch and secret, hidden loops for your earphones. There's nothing like a fluffy new hoodie – they always feel so soft and fluffy inside!
If you already have any of the other hoodies, the sizing's the same. They're available in unisex sizes S-2XL. Pick the size you'd wear in mens t-shirts or hoodies. Most people say the sizing runs as they'd expect. Measurements are in the size guide.

Pre-order Closed
UPDATE: The pre-order has now closed. The t-shirts and hoodies will be on general release soon. Keep an eye on Twitter and Instagram for updates!
Pre-order now and they'll be sent out as soon as they're ready (estimated late March 2021). As always, if there are any delays I'll let you know!
There's worldwide shipping to any country.
If you're in the USA, shipping for hoodies is quite pricey following the price rises from USPS last year, so there's also the option of economy shipping at checkout as a more affordable option (it should take around 6 weeks, although recently a parcel arrived in just 3 weeks).